The groundbreaking, revolutionary experience for visionaries, startups leaders, creatives, consultants, and entrepreneurs!
YesHoney Collective brings together designers, brand specialist, photographers, developers, entrepreneurs and marketers from across the country to provide business resources to align your vision with success.
Once a year, the creative professionals of YesHoney Collective gather to discuss wealth, entrepreneurship, share industry secrets, and strategies all designed to accelerate growth and profitability for the year ahead.
Follow us on Instagram @YesHoneyCollective
PRESENTED BY:
YesHoney Collective
HOSTED BY:
Tirzah Moneé
MC
D'Shaun Campbell
SESSIONS & PANELS
YesHoney Collective Welcome Brunch Keynote: Vision, Accountability, Community

Tirzah M. Johnson

Matters of the Mind: How to manifest your Vision
Sherena Edinboro

Visuals & Visibility: How to boost brand for cross-platform reach

Paty Ventura, Richard Rembert, & Xavier Miller

Secure the Brand: How to protect your brand online. 

AnnMarie Nayiga

Get Insta clients with Speaking

Caterina Rando

Marketing & Money Moves: How to secure the bag online.

Arielle Hale, Jasmine Anderson, Beez, Caroline Lawless

Social Media Challenge: Grow your network! 

Tirzah Moneé & Deanna Kent
Unconventional Wealth Chat
 – [LIVE]
Ogechukwu Madu, Josh David, Brandon Jones

Business Growth Secrets – Advanced Concepts: How to go from zero to fully scaled in 90 days or less.

Adrian Kennedy
Follow @YesHoneyCo on Twitter for Conference Updates.
*Schedule is subject to change*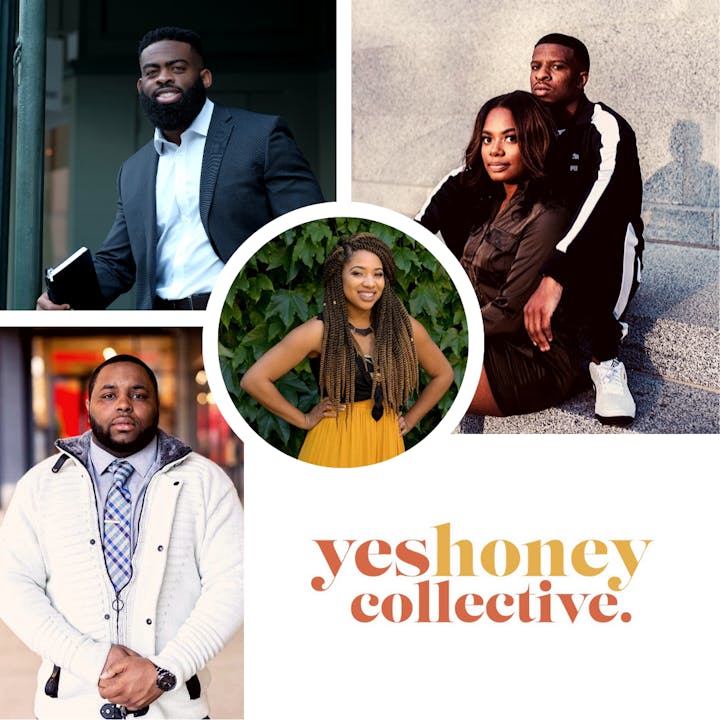 Ticket Includes:
A day of sessions Saturday (11:00 am to 5:00 pm)
Catered YesHoney Collective Brunch with coffee, and iced water throughout the entire event
Awesome conference swag.
A dope after party with a dj and bomb food so you can continue networking in a more casual environment (5:00 pm to 6:45 pm evening)
An opportunity to network with and meet sponsors, speakers, and other YesHoney Collective community members, including business owners, designers, developers, agency owners, bloggers, copywriters, freelancers, site owners, and more
RECORDING POLICY
For community-building and promotional purposes, there will be volunteer and/or professional photographers and videographers at YesHoney Collective 2020 Vision Conference. By purchasing a ticket and attending the event, you consent to your image being used in resulting photos or videos that may show your participation in the YesHoney Collective 2020 Vision Conference.
CALL FOR SPONSORS
Sponsoring YesHoney Collective 2020 Vision conference is a great opportunity to demonstrate your support for the budding entrepreneurial community in Sacramento. In order to keep costs down for our attendees, we look to sponsors to help make YesHoney Collective Vision Conference part of this thriving community.
Event attendees are made up freelancers, entrepreneurs, small businesses, consultants, designers, developers, bloggers, copywriters, and hobbyists, as well as employees from large organizations who are working to develop wealth while building a vision for their communities. Entrepreneurs range from newbie freelancers and small business owners to experienced investors. The conference is a diverse mix of attendees but has an engaged audience of people of color, women, and underrepresented minorities.
Sponsoring YesHoney Collective Vision Conference shows our business community that you care about their success and about supporting the economic growth of our community. Plus, let's be honest, it makes you look pretty dope!
Bonus: Each sponsor will also receive an affiliate link to earn commissions on completed sales.
WE NEED YOUR SUPPORT!
We've created sponsorship levels to fit every budget, so no matter what size budget you have, you can join in and show your support YesHoney Collective and our local Sacramento small business community.
If interested please email the following to: pr@yeshoneycollective.com.
• First and Last Name
• Company Name
• A brief description of your business
• Website link